Layout
On the following pictures can be seen the location of LPC4350 Demoboard components.

LPC4350-DB1 schematics lpc4350-db1-schematics.pdf

LPC4350-DB1 mechanical drawing lpc4350-db1-mechanical-drawing.pdf

Board dimensions - 60x94 mm.

Top view: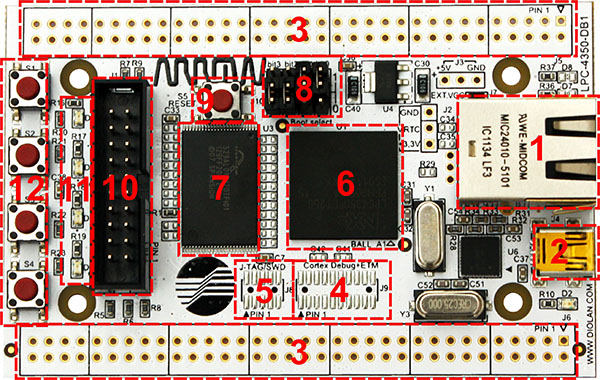 10/100 MBit Ethernet Connector;
USB Mini Connector;
2 Extension Connectors;
Cortex Debug+ETM;
J-TAG/SWD;
NXP microcontroller with embedded SDRAM;
16M Flash Memory;
Boot Select;
Reset Button;
J-TAG Connector;
4 LEDs for debugging;
4 Input Buttons for debugging;
Soldering place for additional memory chip (from back side).
English